UNIQUE 3 DAY MASTERCARD PASS
Mastercard City Pass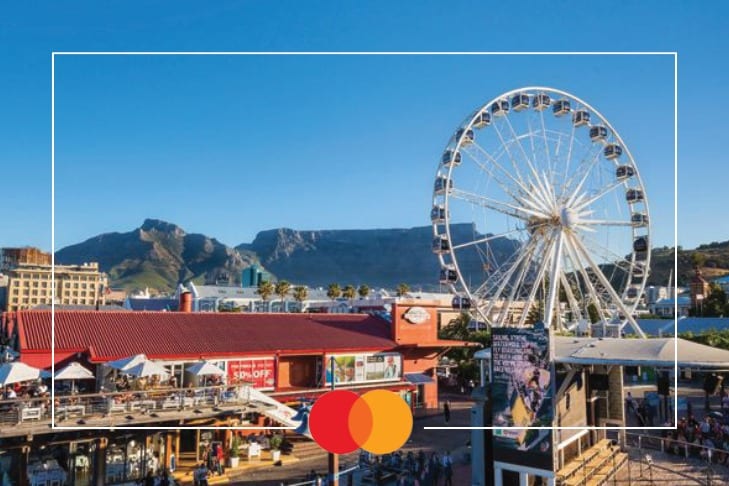 TOUR DESCRIPTION
Unlock Cape Town at your own leisure!
1) Pick the number of attractions you would like to visit
2) You will receive you bar coded e-Pass. Save it to your phone or print it
3) Simply turn up at any of the listed attractions that this pass is valid at and scan your e-Pass to gain entry.
4) Your e-pass expires when the number of attractions you chose to buy is reached OR 30 days after the first attraction has been scanned.
5) Save loads of Rand's whilst visiting the top attractions
No need to choose your attractions before you buy it. You have the flexibility to choose as many attractions as you have purchased a 3 day pass to visit some of Cape Town's top experiences.
You get to choose from THIS LIST of 35+ top attractions.
Choose how many attractions to visit
Instant confirmation - Mobile ticket
3 Days to visit your chosen attractions
Fast track, hassle free entry at most attractions
Many attractions exclusive to this pass including a Red Bus ticket
Important Information
Should I purchase my Mastercard City Pass in advance
Yes, and we recommend it! City Pass packages can be purchased here. After completing the Online purchase, a pass will be emailed to you. It will contain the barcode required to present and scan at the attractions you visit.
How many attractions are there
This pass is valid for a single entry to your chosen number of attractions of the 35 available Cape Towns top attractions. You get to choose from THIS LIST of 35+ top attractions.
How will I show my Mastercard City Pass at the attractions
You may present your City Pass Barcode on your mobile phone (or by printed voucher) to gain entry into attractions.
How does it work
Your Mastercard City Pass offers you complete cash free access to your choice of top experiences in Cape Town. With a Discover Cape Town Pass you save both time and money. Simply scan your barcode (which you receive on receipt of purchase) on arrival at an attraction. Remember, you choose how many attractions you would like to visit when you purchase your pass, but you only have to choose your desired attraction as you use it!
Does it include the Hop on Hop Off bus
You may choose the Classic Hop on Hop Off bus as one of your attractions.
Can I save on entrance fees
You quickly save on general admission fees by using your Mastercard City Pass
How long is my Mastercard City Pass valid for
You may use your chosen number of attractions over a 3 day period. The 3 days start when you first scan your pass at an attraction.
What happens if I need help?
We have 2 walk in contact centers:
* V&A Waterfront, located outside the Two Oceans Aquarium
* CBD, located at 81 Long Street
Money Back Guarantee!
When you purchase this Mastercard City Pass online, you will automatically receive a 30 day guarantee against any non-use of the product, offering you peace of mind as you can get a full refund (less a R 10 admin fee per pass cancelled) if the pass remains unused.